The US mobile payments market is expected to more than double by 2019 primarily driven by Millennials and Generation X consumers. PayPal is by far the most popular payment service used by US smartphone owners with more than five times the number of users compared to the next closest payment service Google Wallet.
Consumers are already using iOS & android apps on smartphones as a shopping companion at various stages of the purchase journey when inside a store. They use it to find new products, to look up information on products and read product reviews towards making a purchase decision. In the final conversion stage, they are using mobile to pay via QR codes, apps and NFC features. Mobile app wallets can help consumers along the shopping journey as well. Addition of loyalty programs, one of the most sought after features, could make mobile wallets a useful tool to track and engage consumers beyond the purchase journey. As a shopping companion, consumers expect brands to provide marketing content such as coupons, loyalty programs, and product information in mobile wallets.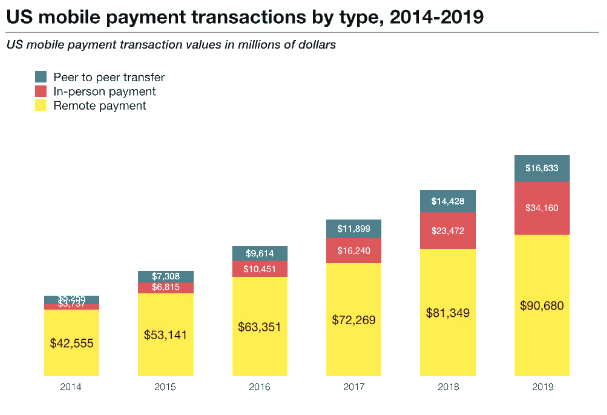 "People spend significantly more when they're using a credit card," said Ross Steinman, chairman and associate professor in the psychology department at Widener University. "If we take that idea and extend it to mobile payments, I would expect that to be at least in [the 12 to 18 percent] realm, perhaps a little bit more."
Consumer Behaviour Within The New Mobile Landscape
The new mobile app development technologies support a new purchasing/consuming scenario, where the consumer buys using a mobile device and collects at home or at the store (a pick-up boutique or collection point). In this scenario, consumers may buy anytime anywhere through the mobile app and have the purchase delivered to their home or collect it at their favored store. They are not (anymore) obliged to be physically within the store to make the purchase, because of the possibility of home delivery. In fact, consumers can access the service through the retailer's website from a desktop computer or by using their mobile phones (equipped with internet connection) to download the free ad-hoc app, which offers the same functionalities as the website. The pick-up store can be chosen from the list of points of sale that this service offers, thus consumers may select the closest or the easiest store to reach. Restaurants, banks and service aggregators are increasingly developing iOS & Android mobile apps to serve their customers the mobile way.
The ease of use of the mobile app contributes to the perception of a positive consumer experience. Consumers everywhere echo the same sentiment that buying through a mobile app is much more convenient than buying online. The app not only displays products which fits a consumer's best interests but also distinctly features a section of new products to guide the consumers better.
Consumers are also using mobile payments for wide range of purposes – to pay their bills, make online purchases, pay for products at a store, and send or receive money between two parties. Paying regular utility bills is the top scenario in which mobile payment is being used.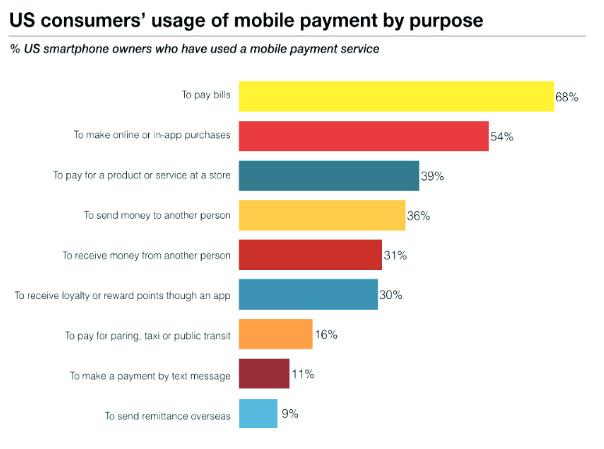 With companies like Venmo processing more than $1 billion in one month in mobile P2P payments, and the thousands of other companies like Square processing billions more on mobile devices, the fintech industry and mobile payments industry is ripe to becoming one of the hottest sectors in tech.